Get MAD about Waiheke!
Listed here are a number of Waiheke-based organisations, each dedicated to preserving and enhancing the island's community and/or environment. These groups are looking for volunteers to become involved in their activities and help to achieve their objectives. Find a good match for your interests and start making a difference today!
CAW advocates for cycling infrastructure on Waiheke, creating fun activities for kids and adults and hosts an annual cycling festival. We would love some new members!
Members will help with planning roads and parties, and the occasional meeting.
Contact: Xan Hamilton / xan@susiesays.co.nz / 0275101134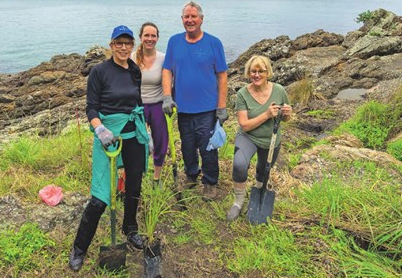 Kaitiaki of Newton Reserve (KNR)
KNR cares for the public reserve that runs along the coast from Little Oneroa to Fisherman's Rock and up Newton Valley to the intersection of Queens Drive and Newton Road. We plant eco-sourced natives, remove noxious plant species, and control pests including rats and rabbits.
KNR weeds in summer and plants in winter, at working bees held on the second Sunday of each month, starting at 10am. We provide lunch and a cold beer afterwards, but there is no other reimbursement.
It is physical work, requiring sturdy shoes and often gumboots in the wetter months.
Contact: Bronwyn Carruthers / bron.carruthers@xtra.co.nz / 021 685 809
A wide range of environmental and sustainability focused projects offering volunteering opportunities, skilled field work, office work, and training opportunities. Stop by the offices of the Waiheke Resources Trust found within the Waiheke Sustainability Centre, Mako Street, Oneroa.
We need help with planting and weeding of Waiheke wetlands, composting, water testing, food prep, grant writing and more. Typically volunteering ranges between 2-6 hours. Volunteers should be reasonably physically fit. Knowledge base in any of the afore-mentioned volunteering capacities is welcomed but not necessary.
Lunch is provided on Fridays at the Kai Conscious Cafe.
Contact: Kristin Busher / info@wrt.org.nz / 09 372 2915
Website: www.wrt.org.nz